ASAP final release postponed
Due to the current COVID-19 crisis and related software projects the final release of ASAP will be postponed until Q1/Q2 2021 or even later. ASAP beta (FSXPilot 64 bit for MSFS 2020 and X-PLANE) will be freely usable until then and we will implement improvements from time to time. Stay safe and happy holidays!

Beta update 2.95 after MSFS USA update
We published an update of the beta version today, because MSFS changed the Simconnect aileron support with the USA update of November 24th 2020. Trumps fault ? Our update will load automatically.   

Program support now switches to Discord
This is a short information that we will switch our main program support to the Discord channel. Discord works well and is much easier to maintain and keep track.
Please expect longer delays, if any answers, for regular support emails. On the other hand - visit our Discord channels for fast support and regularly updated information.   
New invite to Discord channel which does not expire
Always want the latest information on the all sim autopilot , chat or fly with us ? We are glad to inform you that our official Discord channel has been created today.  
 New beta update 2.9.3 is published - must be re-downloaded
We had to publish an update (2.9.3) of the ASAP beta (64-bit FSXPilot) on Wednesday, November 5th  2020. When you start your recent ASAP (2.9.2) there will be a message screen that the beta period 1 is over and you have to redownload the complete package. Please do that and unzip in a new folder.  When you are in doubt and before error reports  please check (after a failed run of ASAP)  your session_dbg.txt file for the version in use. 
Sorry for the inconvenience, thanks for beta testing, and have many great flights. 
New MSFS compatible Makerwys by Pete and John Dowson available 
This is great news: A new version of Makerwys by Pete and John Dowson is available. The tool allows extraction of all runways in FS2002, FS2004, FSX, P3D and MSFS. FSXPilot has an import routine. See the manual, search for "Update AIRAC".  
Head over to FSUIPC website for the free download of Makerwys. 
Thanks, Alan for the information!


 New beta update ahead - must be re-downloaded
 There will be an update of the ASAP beta (64-bit FSXPilot) on Friday, October 16th, 2020. When you start ASAP there will be a message screen that the beta period has ended and you need to register.
This is not yet the case. However, you will need to just re-download the beta as soon as this message appears. From thereon, there will be automatic updates of the beta on your computer. You will always have the latest version. These automatic updates will be functional until we have major program changes. You will be notified if the changes are so big that you need to reinstall the complete package. 
Sorry for the inconvenience, thanks for beta testing, and have many great flights. 
Official Discord channel launched 
Always want the latest information on the all sim autopilot , chat or fly with us ? We are glad to inform you that our official Discord channel has been created today. Well will be there from time to time. 
FSXPilot 64 beta version (MSFS2020 and X-PLANE 11) is now available ! 
We are glad to inform you that the first beta version of FSXPilot 64bit is available for download. FSXPilot 64 bit is intended to work with MSFS 2020 and X-PLANE 11 only. 
All standard aircraft of MSFS 2020 are supported. There is no helicopter implementation yet. 
Please unzip the download into a separate directory and run fsxpilot.exe with admin privileges. You must be connected to the internet to be able to run the beta. 
The new version may turn payware soon. There will be no automatic updates, please check back for updates frequently. 
Always backup your aircraft.ini file if you make changes to aircraft parameters. 
If you find bugs, want to give thumbs up, or have ideas please let us know. 
Thanks, Steve and Roberto for making that happen.  
Enjoy the ride.
FSXPilot will turn into ASAP
Orbiter Space Sim, FS9, FSX, P3D, X-PLANE, MSFS 2020 .... it has bee an incredible journey over more than a decade. With the upcoming support of Microsoft Flight Simulator 2020 (Q4) our software will finally represent the most universal and versatile autopilot for flight simulation available today.
To reflect this, FSXPilot will be renamed to ASAP - the All Simulation AutoPilot. It will be connected via a new domain: www.allsimpilot.com
See you in the skies ... asap please ;-) 
Important MSFS tip
To our great surprise, FSXPilot seemed to work out of the box in MSFS 2020. Thank you, community,  for your recent reports. However, it became apparent that MSFS 2020 dropped frame rates had some apparent stutters after connecting FSXPilot. 
Fortunately, this was identified as an MSFS 2020 Simconnect bug (thank you Jim) and we expect an MSSF patch in the coming weeks https://forums.flightsimulator.com/t/simconnect-stutter/162526
Until then, we recommend limiting the MSFS frame rate to 30 (thank you, Steve) for a slightly better experience. 
The good news is: FSXPilot already today enables "Flightseeing" in MSFS and proves to represent the true universal autopilot. A special MSFS 2020 edition of FSXPilot will follow.  
Enjoy the eye candy.  

Good progress
August 21th, 2020  We were ahead of schedule. 
The first FSXPilot flights were performed with the new Microsoft flight simulator 2020 :-) There is much work to be done and the available SDK seems to be still incomplete.
Interestingly, FSXPilot flew out of the box with the old available Simconnect.dll (Steam FSX). At this point, we are happy to announce that an adapted version of FSXPilot will be available sooner than expected. Please check this page for the latest updates.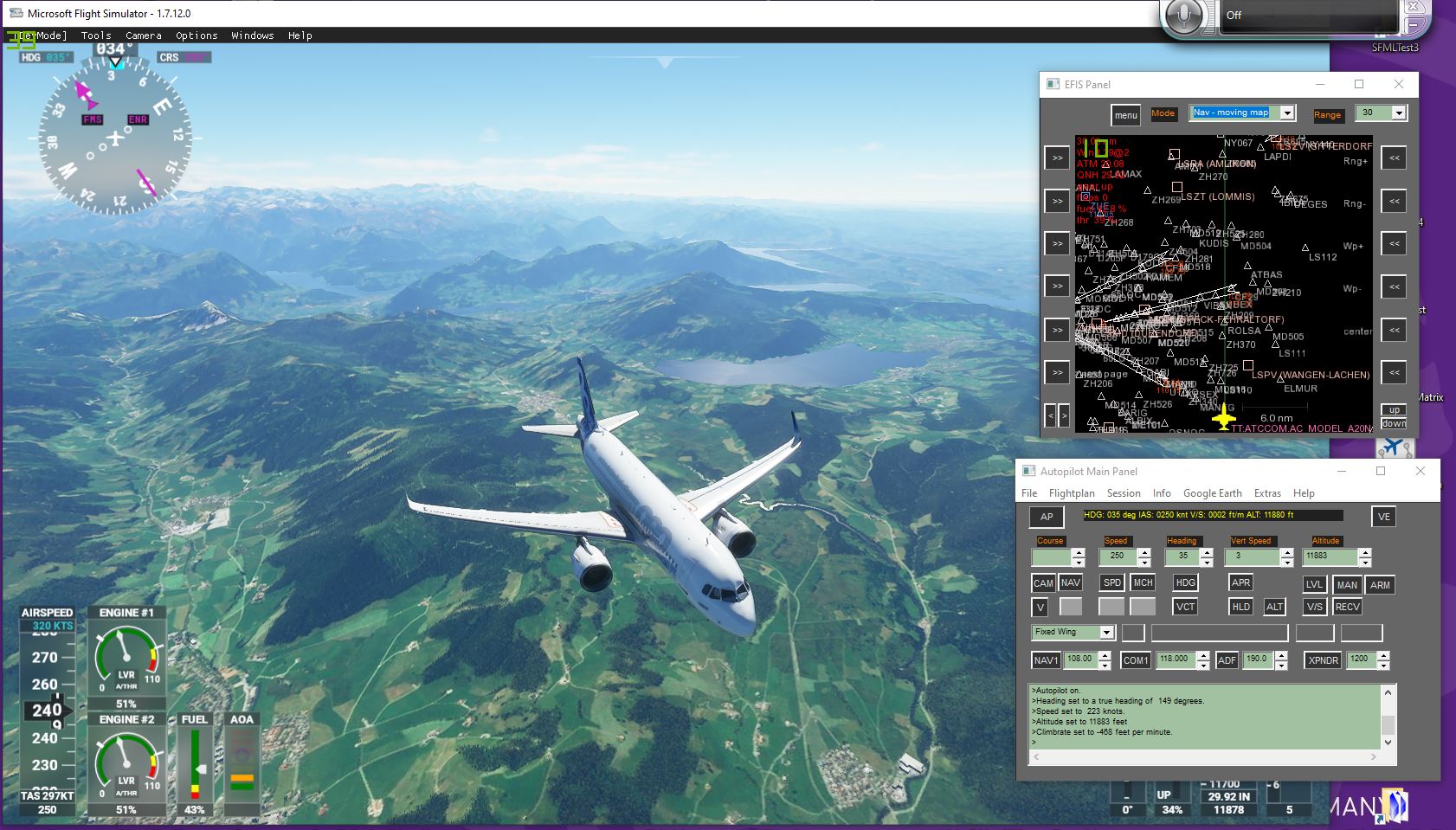 MSFS 2020 released
August 18th 2020 (MSFS Release date)  We were able to install the new Microsoft flight simulator yesterday and were absolutely blown away. 
The sim is excellent. Clouds and landscape are gorgeous even out of the box, there are beautiful and detailed planes .... 
As even the SDK is available upon release, we made the decision yesterday to support the new MSFS 2020 with our universal autopilot.
So the great news is: FSXPilot will turn into MSFSPilot soon. We have no dates yet nor do we know yet about the mode of licensing. 
Please stay tuned, this page will always be updated first. 
Detailed Approaches - with RNAV, VOR/DME, ILS and Localizer in V 2.88 is online  
FSXPilot now supports thousands of runway approaches (thank you Navigraph)
Short instruction for an approach in EDDL RNAV approach:
Takeoff in EDDF 
Type "select eddl" into the command line box and press return
Find a new menu entry in the quickselect menu "Fly final approach to EDDL"
Choose the new entry, scroll down until you see the 05L RNAV entry
shortly above this line, select the DOM05 approach
Wait and fly the DOM05 approach along the blue line on the EFIS
At the last waypoint of the DOM05 approach, call the quickselect menu again and select the "Fly final approach from xxx" entry
xxx is the next (the last) waypoint of the DOM05 approach 
Select the correct runway
fly the final approach, the sink rate is automatically adjusted
When you see the runway at the outer marker, press STRG O to switch the autopilot off. 
Manual landing (or tuning ILS), gear operation, flap setting is always required in this type of landing and as soon as you see the runway. 
Upcoming soon: Detailed STARs - with RNAV, VOR/DME, ILS

and Localizer Approaches in FSXPilot  
Good news from the FSXPilot headquarters: In the next major update, which will be released end of September 2019, we will integrate an additional AIRAC with detailed approach information into the data library of FSXPilot. This will enable to fly STARS to runways and the final standard approaches to airports worldwide. Regular updates to all AIRAC files can be downloaded at Navigraph if you are a subscriber.  This will enable you to stay on the standard tracks with all flight major flight simulators. Besides other fixes, the new FSXPilot version will support throttle and flaps setting of the Zibo Mod B737 in X-Plane.  
Youtube videos II 
Due to request (thanks to Roberto)  comments the youtube videos were restored until further notice. 
Please use the online documentation, which can be found here: http://www.fsxpilot.com/manual/FSXPilotManual.html

New default AIRAC cycle 1804
By courtesy of Navigraph, provider of flight simulator AIRAC and navigation charts, we are able to include a more recent AIRAC in the default FSXPilot installation file.
The collection of files defines the number and position of NAV targets, airports, runways, SID and STARS. Cycle 1804 is a snapshot of the world situation in March 29th 2018. 
If you need the very latest AIRAC please purchase individually or as a subscription (highly recommended) from Navigraph. 
Important note: If you want to make use of 1804 (from the year 2018) you need to redownload and install the FSXPilot installer. 1804 will not be distributed via the update system, because some pilots may already have newer AIRAC versions on their hard drive.    
Thanks, Richard, for providing 1804 to the community!  

Cooperation with Navigraph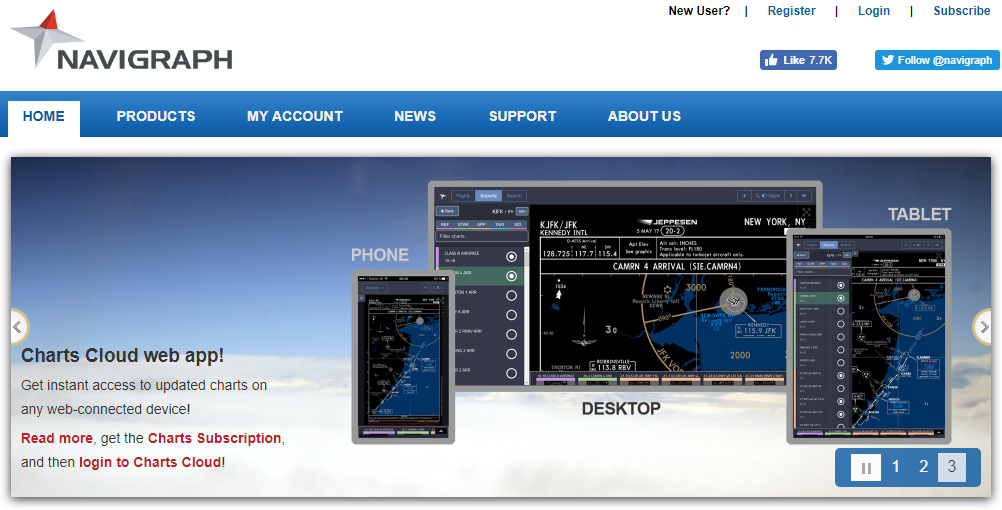 Today we have good news for you. Navigraph, one of the worlds leading provider of simulation charts and AIRACS, has implemented FSXPilot in their online and offline AIRAC updater.
For you, as an FSXPilot user, this means that you will be able to purchase and download the latest AIRACS with the click of one button. If you are a Navigraph subscriber, FSXPilot will be displayed in the addon list of the Navigraph update tool and AIRAC data will automatically copy to the right folder on your hard drive. 
The new functionality will be available for the upcoming AIRAC 1904 which should be out this week. We will have to push a minor update from our side to enable the process. 
We are super happy with this new situation. Navigraph has been a very reliable AIRAC provider and we were using one of there free AIRACS from day one of FSXPilot development. 
Please be aware of the fact that a new AIRAC will overwrite the old one without notice! So if you have made manual changes in the AIRACS, please make backups first. 
Thank you, Richard Stefan vom Navigraph, for your continuous support.  
 

Hi again 
We published a minor update today. It essentially brings a better and more versatile EFIS for the future and some more bug repairs!
And we have our own HTML based software manual now always available in the bar right -> and from FSXPilots Help menu. 
Happy landings  
Merry Christmas and Happy Holidays! 
Between the years we are working on a minor update. In addition, we have test flown the marvelous Flight Factor A320. 
 Wishing you all the best for 2019 and always happy landings with FSXPilot. 
Seasons Greetings!
FSXPilot PRO version now available for free download!
Today we have made FSXPilot PRO available for free download. The current version number is V 2.8. 
There will be an automatic update if you have FSXPilot installed. The installer (download section) is updated to V 2.8.   
Benefits:
Program feature
 FSXPilot PRO 
 
 
Circle in thermals
yes
Circle around GPS targets
yes
Slope soaring with GPS targets
yes
Drop waypoints, commute, flightseeing
yes
Automatically update HDG, IAS, V/S and ALT (AP panel) 
in the cockpit of the aircraft 
yes
Set COM1, NAV1, ADF and XPNDR frequencies 
directly from the AP panel
yes
Manage aircraft database within FSXPilot (-> Aircaft options) 
yes
No need to modify aircraft data in fsxpilot.ini
yes
FSXPilot view system
yes
Fly to GPS coordinates - the easy way (exclusive dialog box) 
yes
Aircraft library: Define default climb rates below and above 15000 ft
yes
Aircraft library: Define service ceiling
yes
Aircraft library: Define maxbank / maxpitch values 
individually for each ac
yes
Aircraft library: Define final flaps position -> 
auto landing for each ac
yes
Current target display (ETA,ETE) on EFIS
 
PDF documentation (download section) 
yes
CHM documention (windows help file) 
yes
Take screenshot from windows taskbar
yes
Take screenshot hotkey
yes
CTRL key + HDG button -> set current heading
yes
SHIFT key + HDG button -> set current heading + 180
yes
Hide / Show hotbuttons for AP and EFIS panel
yes
Program skins
yes
Enjoy.  
Next decision made  
There will be NO FSXPilot open source project in the foreseeable future. We just did not get enough feedback from you guys interested to maintain the code.
PRO will be integrated in the Shareware version on October 1st 2018, so there will be a massive one time usability boost for the shareware users, but progression from here will be very slow. Unfortunately, support will have to be reduced, too. Please do no longer expect immediate E-Mail reactions after Oct 1st. We will integrate a Donate button for the server to keep running. We have secured server operation until October 1st 2019.
Greetings   

FSXPilot works with P3D 4.3  
We have just tested the latest version of P3D (4.3) and FSXPilot. No changes, seems to work fine. 
Reminder 1: If you want to hide FSXPilot windows completely, please just click on the FSXPilot icon in the taskbar. Clicking a second time will make the windows appear again. 
Reminder 2: DO NOT adjust graphics settings or other flightsim parameters during a FSXPilot session. Always close FSXP completely, make your full  adjustments in the flightsim, then better restart FSX, P3D or X-Plane, finally restart FSXPilot. Fly.  

No paid Ad  - X-Plane 11 and XEnviro ...  
... the best flightsim combination we have ever flown. Fullstop.  

EU Law disclaimer  
We have deleted all personal data from PRO users in our database. During website registration, we only store your freely chosen username and your E-Mail address. During your FSXPilot flight session, your IP address gets monitored in order to distinguish the pilots on the statistics page. Do not start or install FSXPilot if you do not agree. 


FSXPilot now supports 4K monitors  
June 2018: We have published an update which allows scaling the AP and the EFIS panel with resizing the fonts of text and buttons. This allows operating FXXPilot on high-resolution displays.
Enjoy.
Aircraft library and FSXPilot shareware  
If you work with FSXPilot shareware and want to edit your aircraft library the old fashioned way via fspilot.ini, you can do so but must rename or remove the file aircraft.ini from your FSXPilot home directory. We will take care of the conversion of that aircraft data into aircraft.ini when we switch PRO to freeware in October. 


Decision on the future of FSXPilot PRO  
Munich, April 29th 2018
After another long thought :-) the final decision on the future of FSXPilot PRO has been made. Due to new personal duties, many new projects in my real life job and lack of time for support and new developments FSXPilot PRO will now definitely turn freeware on October 1st 2018. This means: Shareware users can expect a huge functional update in October. 
The transition from PRO to freeware will be in October. Please refrain from sending emails "I want it earlier" "Where can I get it earlier". we will not make one exception. 
The last registration (yesterday) has been refunded. 
FSXPilot PRO Paypal purchase has been stopped today. The FSXPilot android app has been removed from the play store. 
Please do not expect any updates (only relevant bug repairs) until October. 
Our website content will be updated with these new details during the next months. 
It has been an honor flying PRO with you. 
Best personal regards 
rudolf 
Thank you  
Our recent FSXPilot stats revealed that you guys increasingly use FSXPilot in FSX and X-PLANE. Today we want to say a big thank you. We added the TOP 100  "longest flights ever" and "longest distance ever" script to our stats page. Absolutely amazing data there. Some of you have used FSXPilot in long distance flights over the period of several days :-) Is this a data bug ? If not - true devotion. Anybody wants to send a report ?  
X-PLANE joystick sensitivity 
We recently stumbled upon an interesting post concerning the X-PLANE joystick sensitivity, which has been quite annoying from time to time and has been a major X-PLANE criticism. 
The guys from pilotworkshop.com quoted a study from the past, in which a "great to fly" aircraft was defined as one that has a pitch - roll - yaw relation of 2:1:4. They recommended (X-PLANE joystick options -> control sensitivity)  a setting of pitch 20%, roll 10%, yaw 40% (left sliders) and pitch 5%, roll 5% and yaw 0% (right sliders, augmentation). This works amazingly well so we wanted to share this. For more details please go https://www.pilotworkshop.com/getting-started-flight-simulation-2 and scroll down to the video "Sample 2: Making it feel real". 
One last word: 2017 has been an amazing year for the FSXPilot / FSIMPilot. After declaring FSXP dead, then full reanimation, we now support X-PLANE and think that the hard decision to implement this into our universal autopilot was a very good one. We enjoy X-PLANE 11 every day. 
Now it is time to whish you a Merry Christmas and all the best for 2018. A small update will be published between the years with a little, but useful gift for PRO users. 
Stay tuned ...
 
 
PRO System update (2.06) has been published !
We have just published the next PRO update. In this update, we implemented a "V/S to airport" indication on the EFIS when the airport is selected as target and NAV button pressed. This displays the approximate negative V/S that is needed to reach the airfield 1000 ft above ground, taking into account the current altitude, ground speed and time to reach the target. Great for planning your exact descents. If you plan to descend with -1000 ft/min, wait until this value is displayed, then start your descent.  
For all versions (will be included in next shareware update): 
X-PLANE plugin: "cannot read reg key" error message during the first time uses removed
CTRL + SPACE (stabilizer) in helicopters now holds altitude